ZenBook Duo by Asus is on everyone's lips nowadays. Why shouldn't it be? After all, it is one of the best dual-screen laptops, including some marvelous features at a reasonable price.
You obviously might have heard about it from your friends or family members or from the news. And all of them might have told you various specs and features of the dual-screen laptop, right? But you need not worry about the sea of information thrown at you, as in this article, you will be versed with the right information with its gains and losses.
When you were told this much information about the laptop, you might have thought how cool the laptop is and must have been intrigued about it. But at the same time, you also might have wondered if Asus ZenBook Duo is worth it? Right? To answer this question, we will take a look at some features, designs, and various such components of the laptop.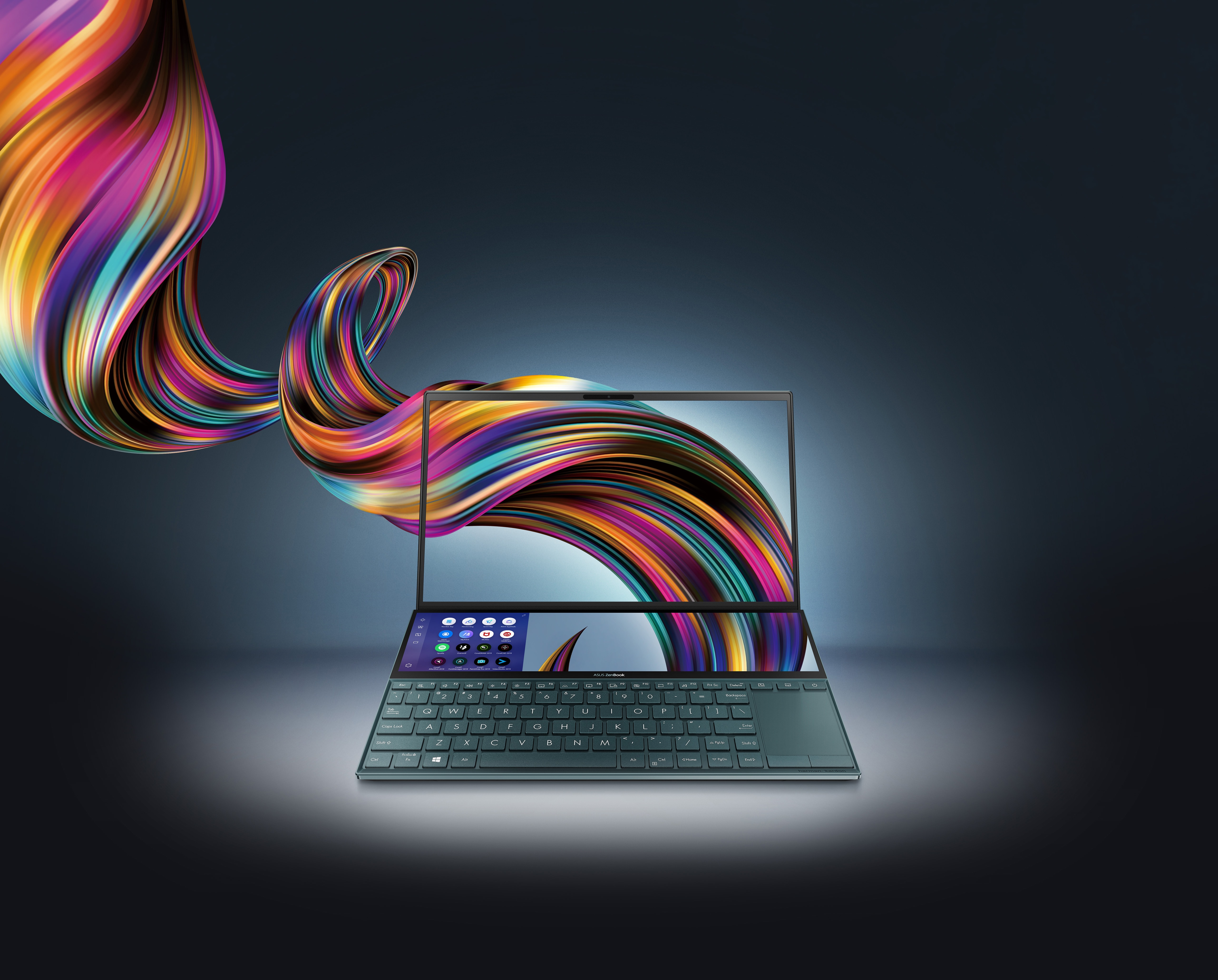 Configuration
The first thing we should know about ZenBook Duos battery life, size display, and more. This will help us decide the answer of "is Asus ZenBook Duo is worth it?".
CPU- Intel Core i7-10510U at 1.80GHz
GPU- Nvidia GeForce MX250 (2GB)
RAM- 16GB DDR3 (2,133MHz)
Storage- 1TB PCle Samsung SSD
Display- Primary screen 14-inch, LCD Full HD (1920 x 1080), Second screen 12.6-inch Full HD (1920 x 515) Touch Display
Battery- 9:44 with ScreenPad Plus on and 11:51 with ScreenPad Plus
Size- 32.3 x 22.3 x 1.99 cms
Weight- 1.5kg
You may also like | Our Recommendation
Design
Where to start from? Asus has given us a fest to gaze at. While gaping at the beauty in front, I noticed the metallic dark teal aluminum and the extra pixels on the deck gleaming back at me. When the light hits the laptop just right, it looks like a glistening jewel. Just Beautiful. The lid of the Asus ZenBook Duo has depicted the Asus' signature concentric circles. The laptop also features an engraved stylish Chrome Asus logo in silver, a striking design that will entirely satisfy your creative side.
The posterior of the lid comprises of an extra lip (The Ergo Lift hinge). The Ergo Lift hinge hands under the ZenBook Duo when the lid is ajar. This Ergo Lift hinge would angle the keyboard downward for a more comfortable typing posture and would also bring the second screen up a notch, giving a better viewing angle. But, honestly, this Ergo Lift hinge is only useful when placed on a flat surface.
Usually, ZenBooks' machines are known for their lightweight and slimness, but ZenBook Duo can no way be considered as the thinnest or the lightest laptop out there. This 14-inch laptop is pretty chunky compared to the other 15W laptops.
The secondary screen of ZenBook Duo takes up half of Duo's deck while the keyboard is positioned on the front (nearest to the user). It also has a vertical touchpad/trackpad with discrete clickers on the extreme right. So, in case of design, I think that the answer to the question of is Asus ZenBook Duo worth it is YES!
Ports
Ports are the third component that will help us decide the answer to "Is Asus ZenBook Duo worth it?". ZenBook Duo embodies a decent selection of ports. The right margin consists of a USB 3.1 Type-A port, a headphone/mic jack, and a microSD card. The left brim entails a USB 3.1 input, a USB-C input, and two HDMI port.
Display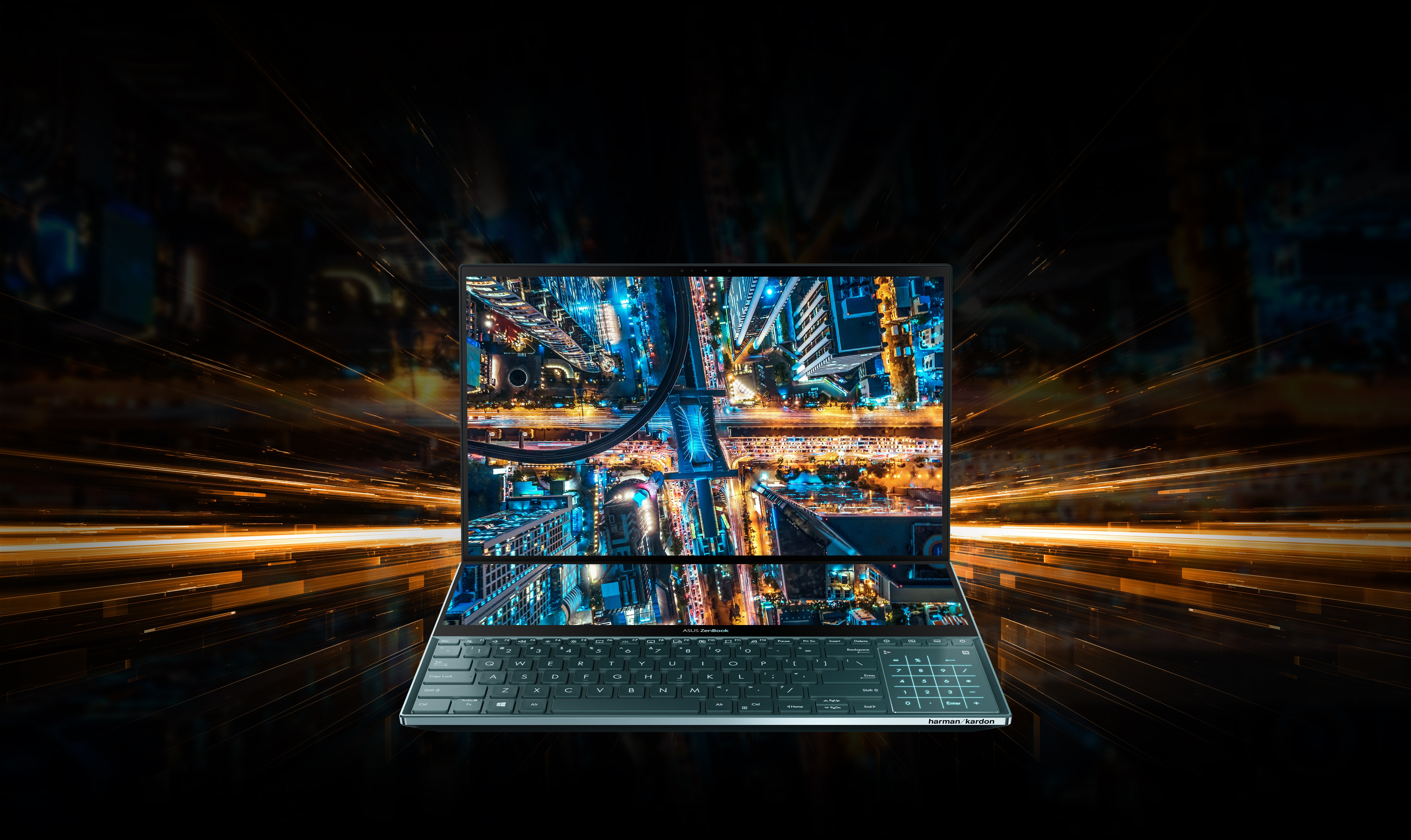 Display is the major component to decide the answer, so let's see what answer we obtain. The primary screen offers a 14-inch, 1080p display while the secondary screen has a 12.6-inch panel. The main screen is great, offering more saturated colors along with crisp details. ZenBook Duo's touch panel also effectively reduces annoying reflections. The screen offers a clear display, neatly displaying all the colors on the screen.
ZenBook Duos display captures 107% of the sRGB gamut. Asus, even for their high-end machines, tends to keep the brightness relatively low. Same goes with ZenBook Duo, with the laptop attaining only 282 nits. But, ZenBook Duo makes up for this a bit with its matte finish, which also improves outdoor visibility. So, I think the question "Is Asus ZenBook Duo worth it?" is answered already.
ScreenPad Plus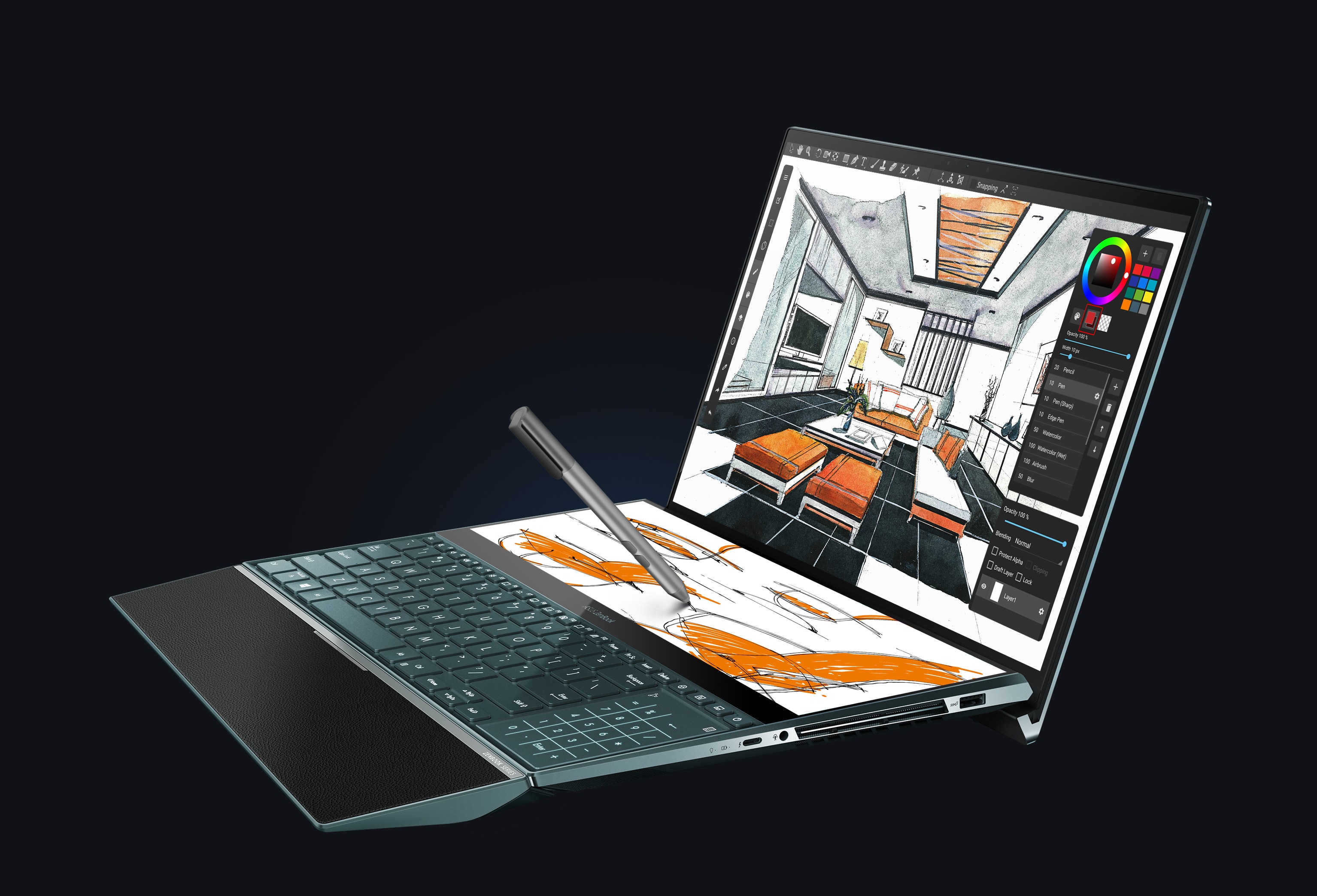 The ScreenPad Plus, an impressive addition to the laptop and perhaps is the greatest talking point. This 12-inch secondary screen is meant to upsurge your productivity. It would allow you to run secondary apps, like Spotify, that you might typically run on the main screen. The ScreenPad Plus also offers useful buttons for moving windows and adjusting the brightness of the second panel. Using the Task Group, you can open up to 5 apps (two on the main screen while three on the ScreenPad Plus) with a single tap.
The ScreenPad Plus would also extend your desktop space; you can extend specified apps to make for some rather interesting use scenarios. For dropping an app from the main screen to the secondary one, all you need to do is drag it on a floating icon that appears on the screen when you adjust the window. When you drag the title bar of any app, three options would appear: launch on ScreenPad Plus, pin to ScreenPaad Plus Launcher, or view on both screens. It is a clever system that works instantaneously, without any flaws.
The ScreenPad Plus isn't that bright or vivid on paper but looks better in person. The touchscreen covers 67% of the sRGB color gamut while the brightness hit 272 nits. The latter of them can be problematic if you are using the laptop outdoors. Another hitch is the angle of the panel, as it can become difficult to view when you are not hunching directly over it. Again, is Asus ZenBook Duo worth it? A big YES, in this case!
Keyboard

ZenBook Duos' keyboard is love, but I loathe its position. The keyboard, as mentioned earlier, is located on the front deck instead of being located in the center or towards the back. This leaves you with no space to place your writs on. So either you have to rest them on your thighs or hold them in the air, while uneven surfaces.
I won't blame Asus for shifting the keyboard to accommodate the ScreenPad Plus but also can't overlook the resulting compromises, either. This really is a shame since the ZenBook Duos' keyboard, otherwise, is fantastic. The keyboard keys are snappy and bouncy and also give a sweet audible click when actuated. Asus has also added a few shortcut buttons, which are worth praising.
Though we have marked a yes for almost all the components but considering the keyboard, I guess it will be a no from my side (unless you work on a desk, work remotely or get an external keyboard and mouse) to the question of "Is Asus ZenBook Duo worth it?"
Trackpad
Trackpad of the laptop is located below the keyboard, on the farther right. Asus believes that most professionals would anyways use an external mouse, but, at times, when you would need to use the trackpad, it would feel a bit awkward. The trackpad is extremely cramped, and every so often doesn't register taps, especially ones near the edges.
As the trackpad is positioned on the extreme right, it becomes difficult, nearly impossible, for left-handed users to use it comfortably. Also, the trackpad has narrow dimensions (2.1×2.7 inches), meaning your fingers are going to overlap onto the desk every time you use it for pinch-to-zoom or three-finger tap gestures.
Another mislay is that the trackpad doesn't double up as a numeric keyboard, the way it does on the Pro Duo range. Even if you are using an external mouse, the trackpad area remains unusable and worthless, so it would have been great if Asus had made this specific feature common across the ZenBook Duo lineup.
The trackpad, being cramped and because of its uncomfortable position, will get a no too.
Audio
ASUS SonicMaster stereo speakers, tuned by Harman Kardon, use a smart amplifier for an improved audio quality. Asus claims the ZenBook Duos speakers use long-travel coils for an improved low-frequency response. The laptop offers a magnificent bass.
The overall sound could've been super loud, but it does just fine to fill up your room or a small office room with music blasting from it. Comparatively, the 3.5mm headphone jack provided with a more satisfying audio quality. If you have a small office/room or make use of headphones, then you'd surely love Asus ZenBook Duo.
Performance
Asus ZenBook Duo uses a 15W processor with the Intel Core i7-10510U CPU, offering 16GB of RAM and do an excellent job in keeping up with demanding workflow. Dozens of open apps and chrome tabs were impotent to slow down the laptop one bit even. Even when you play 1080p YouTube videos along with a Twitch stream simultaneously, the laptop would still persist.
The ScreenPad Plus, too, was pleasantly responsive, even while switching between loading apps or displays. Rebounding from a rough start to benchmarks, the Asus ZenBook Duo also converted a 4K video to 1080p resolution in only 19 minutes and 3 seconds, which is faster than others but is not up to the average of 18 minutes and 37seconds.
The 1TB SSD inside ZenBook Duo UX481 was tremendously speedy while duplicating 5GB multimedia files, taking just 5 seconds to complete the task. Performance gets a tick. Majority of the components have got a YES of the question "Is Asus ZenBook Duo worth it?" let's see what the other three get!
Graphics
The Nvidia GeForce MX250 GPU inside the ZenBook Duo, in terms of graphic performance, is as close to integrated as you can get. ZenBook Duo raced around the Dirt 3 track at an exceptional 106 fps (frames per second), outracing others along with the category average of 64 fps. The laptop also performed well on the 3DMark test, striking 2,769 compared to others.
Outracing even the average fps, the graphics of Asus ZenBook Duo have topped the chart, meaning that graphics too get a YES! Repeat with me guys, "IS ASUS ZENBOOK DUO WORTH IT? YES!"
Battery Life
Incorporating two screens, one might think that Asus ZenBook Duo must have a poor battery life, but amis, you are mistaken. Even with web surfing over Wi-Fi, ZenBook Duo can last for 9 hours and 44 minutes, with both the displays turned on. The laptop would last for 11 hours and 51 minutes when you turn off the second screen. The laptop also outlasted the category average of 9 hours and 7 minutes.
Battery life of the laptop has surely surprised us all, so I guess I will give a tick to the battery life as well!
Webcam
The top bezel of ZenBook Duo houses a 720p webcam, giving our clear pictures even in sunlight. The IR sensors for facial recognition login via Windows Hello make the camera more useful. The last component, webcam, performing so well, has got a YES too!
Is the second screen really useful or just a marketing gimmick?
As mentioned earlier, the ScreenPad Plus, the second screen, doesn't slow down a bit while running loading apps and displays and is also very much helpful. You can work while listening to some good music, watching a video, reading information text from the internet, or can do all of this simultaneously too. With the secondary screen, you can also open five apps in total, at once.
Not only this, you can do much more with the help of the ScreenPad Plus, and would also ease your job. But, we can't even deny the fact that the second screen is put up so that people are more intrigued about it, would tend to know about it and at last buy it. So, it goes both ways, and none of them has a downside; you are only going to benefit from it.
Pricing
This masterpiece can be made yours at Rs.110,000 ($1,500).
Pros
Stunning Celestial Blue shade
Great Build Quality
Vivid 14-inch matte display
Strong Performance
Built-in Wi-Fi 6
Long Battery Life
The 12.6-inch ScreenPad Plus does have novel uses
Cons
Thicker and heavier comparatively
Uncomfortable keyboard position
Narrow and cramped trackpad
Second screen not as clear comparatively
Overall, the design of the ZenBook Duo is pretty surprising and very innovative, but users will have to compromise on how they use it while performing their day-to-day activities. Nonetheless, Asus ZenBook Duo, for sure, is a different form factor and a unique design.
The notebook has also received the MIL-STD-810G certificate, a military standard benchmark for durability and toughness.
And in our primary assessment to decide whether Asus ZenBook is worth it, a majority of them have got a tick. But this doesn't mean that Asus ZenBook Duo is worth it. You might want to consider some points again and then decide.
Though ZenBook Duo isn't as powerful ad the ZenBook Pro Duo, it would still deliver nearly all the similar functionalities at a significantly reduced price. Therefore, Duo becomes a better option for all except those most-demanding power users.
If you spend your day editing videos, writing articles, or just require additional screen real estate without buying an extra monitor, then ZenBook Duo is an excellent choice for you. ZenBook Duo offers long battery life, fast performance, and a functional secondary display in a stunning design.
In spite of these astounding features, I have to say that the ZenBook Duo is far from perfect. This is because, to accommodate a second display, Asus has made compromises in its keyboard and trackpad. ZenBook Duo is also chunkier and heavier compared to the other 14-inch laptops, meaning that it is also not the best one for travel. However, if you do all your work sitting at a desk or work remotely and can buy a wrist rest or an external keyboard, then is, for sure, is the best laptop for you at such a less price.
It's up to you as to which features you want in the laptop and if you are willing to compromise on some. So, you decide the answer to the question, "Is Asus ZenBook Duo Worth It?". Hope the article helped you 😊
"This laptop is perfect for anyone who is in the creative field or who loves to play high-end games and wants something powerful yet classy. Asus has first time done a bold experiment with dual-screen laptops, and the design will evolve better after user feedback. Wait if you want a more refined version with significant improvements. Go for it if you like the current design and open to exploring something new and innovative. Highly recommended!"