Be it simple music, an action movie, or any live sport, you need to hear it precisely to enjoy it fully. There has to be no compromise on sound quality so that you get the best experience out of anything you watch or listen to. But, among so many options, which one is the best wireless soundbars for you? To ease your struggle of choosing the best, here's a list of the most premium and the best wireless soundbars.
JBL Bar 2.1 Deep Bass
Looking to improve your TV's built-in sound? JBL's there for you! Within seconds of switching it on, you will appreciate a remarkable improvement on both fronts, thanks to its deeper and richer sound and a much cleaner and crisper dialogue. You can finally turn off those captions with this best wireless soundbars. (Your parents would love that). JBL Bar 2.1 packs four midrange drivers and two tweeters in a slim, innocuous-looking, compact package. You can connect this best wireless soundbar to your TV using either the optical cable included in the package or an HDMI cable. Bar 2.1 offers both an HDMI input and output. This gives you an option to directly connect it to your TV or go from your cable box to the TV.
The wireless subwoofer would connect automatically the moment you would power it up. With Bluetooth inside, you can easily pair it with your tablet or mobile. Bar 2.1 has built-in presets for music, movies, and sports. This best wireless soundbars display screen, located behind the grille, would exhibit volume levels and input options. Bar 2.1 would also come with its own remote, but you can opt to sync with your TV remote too directly.
Pricing
JBL Bar 2.1 Deep Bass would cost $300 (Rs 22,000).
Samsung HW-Q90R Soundbar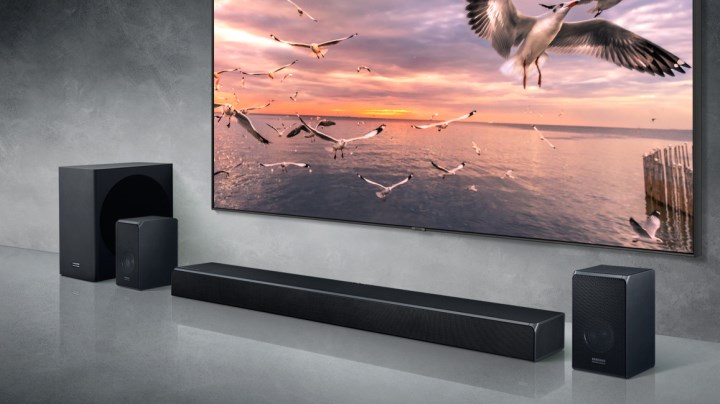 Samsung HW-Q90R is the brands' all dancing, all singing flagship, best wireless soundbars! In the shape of Dolby Atmos and DTS:X, HW-Q90R supports only object-based audio. HW-Q90R is the only best wireless soundbars from 2020 to achieve this with actual rear speakers and four upward-firing drivers. Thanks to Harman Kardon that the HW-Q90R sounds good even with music. HW-Q90R Soundbar offers two HDMI inputs, including 1 HDMI output with eARC, an optical digital audio input, and USB (service only). In wireless connections, you can connect to the speaker using Bluetooth or a WIFI connection. A decent pack of features along with fully-specified HDMI connections complete a nearly flawless package. As long as you can afford it, this is the best wireless soundbars that money can ever buy.
Pricing
Samsung HW-Q90R can be bought at $1,700 (Rs.120,000).
Sony HT-S20R 5.1
Incorporating a primary soundbar, followed by a pair of speakers and a subwoofer, Sony HT-S20R 5.1 can be entitled as an affordable pair for true stereo speakers. HT-S20R 5.1, the best wireless soundbars, combine for a 400W of output. Sony HT-S20R 5.1, as the name suggests, accord 5.1 channel surrounded sound, with Dolby Digital. Music streams would love HT-S20Rs' ability to stream audio over both USB and Bluetooth. This, one of the best wireless soundbars, features multiple audio modes. It would enable you to tune the audio for songs or movies and provide other superlative features.
Pricing
Sony HT-S20R can be made yours by paying $250 (Rs.20,000).
Bose Soundbar 700
Crafted for music lovers, Bose Soundbar 700 is an elegant soundbar that would handle music just as well as TV sound. Bose Soundbar 700 is an impressive and one of the best wireless soundbars. It boasts Dolby Atmos sound along with music production that other best wireless soundbars haven't come close to touching. Soundbar 700 has the ability to add depth to music and projects "that" sound across the room, the soundbars situated. It gives such an experience that an untrained ear might not realize that this kind of sound comes from a single speaker; it's that good. Music on this best wireless soundbars can be streamed over WIFI, Apple's AirPlay 2, and Bluetooth for all android devices. Bose Soundbar 700 can be combined with a family of the best wireless soundbars/speakers to gain a multiroom music experience.
Though the Bose Music App has its share of quirks, the Bose Soundbar 700 is compatible with various music services. These music services include Apple Music, Spotify, Deezer, Amazon Music, and others. This also enables you to control your music from any other of those audio apps directly. Whatever source you choose, with Soundbar 700 as your companion, rest assured. This one of the best wireless soundbars is indisputably going to send a masterful sound back in your direction.
YOU MAY ALSO LIKE
Pricing
Bose Soundbar 700 would cost you $800 (Rs.60,000).
Philips Fidelio B5
With Philips Fidelio B5, submerge your listening senses in the surrounded sound. To obtain a multichannel surrounded sound experience with movies and games, detach the wireless surround speakers from the main ones and place them at the room's rear. With NFC (Near Field Communications) technology, you can effortlessly pair this best wireless soundbar with Bluetooth devices. The in-spatial calibration, developed by the Philips lab, ensures the possible balance of sound regardless of the room's rear speaker's location. You will be able to discern and appreciate every sound in detail, the way it's meant to be, with Philips Crystal Clear Sound. Philips Crystal Clear Sound reproduces the sound source precisely, without any distortion, whether it is an action movie, live performance, or anything else.
Fidelio B5's detachable rear speakers feature an independent Bluetooth module, making them truly independent and easily portable. You can stream music directly from your tablet, laptop, or mobile with the soundbars Bluetooth aptX and AAC. For maximum flexibility, more number of terminals can be easily connected with the help of the HDMI-hubs. A built-in Dolby Digital decoder would eliminate the need for an external decoder by processing all six audio information channels to provide a surround sound experience along with a natural sense of ambiance and dynamic realism.
Pricing
Philips Fidelio B5 can be bought at $725 (Rs.55,000).
Good sound quality is needed to appreciate anything you watch or listen to fully. Above-listed were the Top-5 most premium and the best wireless soundbars to help you make the most out of whatever you watch and listen to. I hope this article helped you in deciding on one of the best wireless soundbars for you. Happy Shopping!