I was always of the opinion that air purifiers are not effective and just money waster. Then I bought a toy fan for my desk, and within one week, something happened which changed my perspective completely.
If you are also new to air purifiers, I will quickly explain you.
Air purifiers are generally used to clean pollutants like PM 2.5 or Gases like NO2 & VOC through various filters like Mechanical, HEPA & Activated Carbon Filter. Operations are elementary and standard to any water purifier. The air is forced to different pass-through filters to arrest particulates and gases, and fresh air is blown out.
After one week, when I observed my toy fan, I can see a layer of dust and ash particles covering my fan's almost new and shining blades. I realized that the fan blade's pollutants could also reflect my kidneys' conditions, and being living closed indoors because of centralized AC, chances of indoor pollutants increases multifold.
Indoor pollution is 20x more dangerous than outdoors.
Finally, I decided to safeguard myself and my family and buy an air purifier. Still, when I started scanning into the market, there were too many options, and all were claiming to use some patent technology that only they can understand. Top this with so much confusing jargon like CADR, HEPA, etc.
I'm skipping the technical lecture, as you can browse from any website on how an air purifier works and what various filters do.
I preferred the Wi-fi connected smart device, which can be operated from my smartphone and controlled by Alexa or google home. I wanted an air purifier to schedule them and has night mode to let me have a sound sleep.
After scanning all the market options, both offline and online, I zeroed down to Dyson Pure Cool Advanced Technology Tower Purifier.
Why I Have Selected Dyson Air Purifier
I wanted a bladeless design as I have a 2 years kid at home who is very mischievous and can get hurt with a normal fan blade. Also, if you explore the below list, Dyson has all the smart features I wanted in my air purifier.
 

Indoor air pollution comes from a huge range of activities. Fine particles are released from activities like cooking (frying and roasting in particular), cleaning, and from fires and candles.
Dyson Air Purifier – Key Features
Many of you might not have heard of Dyson, right? To your information, it is a British Tech firm that entered India and has already become a competitive tech market globally.
The company has been gaining traction for its products since it entered India. Dysons products are often appreciated for their performance and also for their modern yet simplistic looks. In India, Dyson has launched vacuum cleaners, hairdryers, and some best air purifiers as their major appliances.
Do You Know?
Dyson recently moved its headquarters from the UK to Singapore.
Dyson Limited is a British technology company established in the United Kingdom by James Dyson in 1991. It designs and manufactures household appliances such as vacuum cleaners, air purifiers, hand dryers, bladeless fans, heaters, hairdryers, and lights. The James Dyson Award is an international design award that celebrates, encourages, and inspires the next generation of design engineers.
What is Dyson Pure Cool Advanced Technology Tower? How does it function?
Dyson Pure Cool Advanced Technology Tower, being a bladeless fan, can circulate clean air throughout the room no matter where you place it.
What Is A Bladeless Fan?
As the name suggests, a bladeless fan has no visible blades and emits air from within a ring-like hollow. It is based on air-multiplier technology and can generate an impressive airflow within the room. The compressor in the base of the fan draws in air and directs it towards the ring. Then the air is pushed out through 16-mm slits. The result – smooth, unhindered stream of air!
The bladeless fan has two layers of filters packed within. The charcoal layer helps remove malodourous gas molecules, and the HEPA layer helps trap and eliminate particulates. The company also claims that the Pure Cool Technology Tower can amputate over 99.7% of pollutants from your indoor air.
If you pair the Pure Cool Technology Tower to Dysons app, then you will also be able to check the quality of your indoor air, which is divided into four different kinds of air containments namely, VOCs ( Volatile Organic Compound), Particulate Matter, which is further divided into two sizes, 2.5 microns ad 10 microns, and at last nitrogen dioxide.
The Pure Cool Tower monitors these four levels with the help of three sensors located at the base. One of the three sensors uses infrared light sources to check for any particulate matter in the indoor air. It is basically an optical sensor. The second sensor checks the VOCs and nitrogen dioxide in the room. The third and last sensor would monitor the humidity and temperature of the room.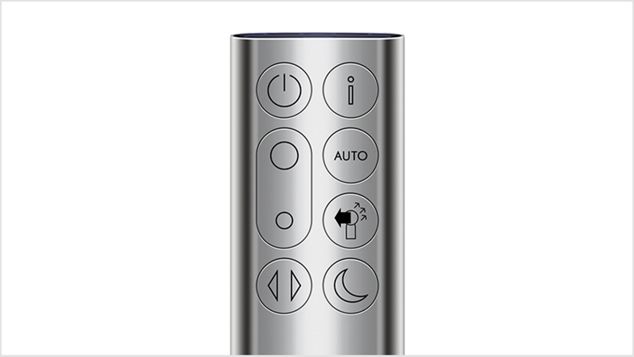 The Pure Cool Tower comes with a tiny, sleek remote which magnetically balances itself atop the fan. Despite this remote accompanying the fan, it is preferred to operate it through the app instead. Through the app, you can also check and compare your house's air quality and that of your city.
You can also enable voice assistants to command and put the fans setting on an automatic schedule. You can even check your rooms' air quality overtime through graphs charting it. The tech firm claims that the air purifier can project about 77 gallons of clean air/second. The air purifier also doesn't make that much noise, as, when put on level 5, it measures about 45 dB.
Dyson Air Purifier – Pricing
Dyson is known for its premium products; it provides to its customers. Along with high prices, they also offer top-class features and intuitiveness. Dyson Air purifier comes with three variants depending on type, size & functionality of the same.
Dyson Air Purifier – Types, Size & Pricing
Pros
Functional and attractive design
Compact and slim
Accurate Readings
Easy switching of airflow
Good air purification performance
Decent odor removal capabilities
LCD screen displays air quality metrics
Cons
Slightly expensive
Large power adapter
Unstable Wobble Design
Why Should You Buy Dyson Pure Cool Advanced Technology Tower?
The small design details within it are very thoughtful and make it easier to use. Apart from the thoughtful un-lose-able remote, the fan has LED on the base, which dims at night so as not to wake you up from your sleep. You can switch the airflow from forward to backward or vice-versa and diffuse the airflow mode if you don't require cooling. It also doesn't create too much noise while functioning, making it perfect for a baby as it won't wake up hearing the noise. So, if you are looking for exquisite design, intuitiveness, comfort, and performance packed in one, Dyson Pure Cool Advanced Technology Tower is perfect for you!
 

After installing and using the air purifier for almost 6 months now, I can say I have made the right decision by investing in the best quality air purifier. Indoor pollution gets worse because of cooking, which releases various harmful gases. Even you would be surprised to know that cooking on non-stick utensils releases more harmful gases, remaining in the indoor environment even after 2 hours of cooking your meal. These gases are very harmful and dangerous for young kids and older adults, especially with asthmatic symptoms. Although this air purifier's price is slightly high, so does the cost of healthcare in our country, and it's always better to invest in our health and well-being than spend later on healthcare bills.