Everyone needs time off their overblown daily schedule. 
And the best way to relax is to engage yourself in some exciting activity.
What exciting activities?
Skydiving? Bungee Jumping? River rafting?
NO!
Then what?
GAMING!
There are no other relaxing plus exciting activities such as gaming!
And it's not just a relaxing activity anymore, it has long time ago, become a profession!
Gaming gives you the same adrenaline rush that you get while performing extreme sports.
This is the reason everyone loves it so much!
But, to enjoy gaming to its fullest, you need to have the best gaming consoles. So, one has plenty of games and features that make gaming easier and more enjoyable. 
So, what's the first name that comes to your mind when talking about the top gaming consoles?
PLAYSTATION, right?
Playstation indeed is a fantastic choice when it comes to choosing the best and the top gaming consoles for yourselves, buttttt…..
You knew that was coming, didn't you? 😉
Playstation has its drawbacks that obligate you to go for other gaming consoles. 
For example, it has no backward compatibility, has software issues more often, and is extra expensive too (also a bit overrated :[])
These and more drawbacks that this gaming console has made us lookout for PlayStation alternatives. 
And we've found the most potent, next-gen, and top gaming consoles for you! 
With these gaming consoles, you'll feel the power in your hand, and thus you can enjoy gaming to the fullest!
Excited to know what these PlayStation alternatives are?
Let's get started with it then!
Best Next-Gen Playstation Alternatives!
Nintendo Switch OLED
Nintendo Switch OLED is a mid-generation, premium upgrade with a bigger and better screen. If it's your first time jumping into the Switch family, then this gaming console is ideal for you!
We were fascinated by the new 7.0-inch OLED screen of this gaming console. It is much better than the LCD on the original model. A significant improvement that gives a bit of mileage out of the device without increasing the size of the machine overall. 
What's more, this one of the top gaming consoles uses all the accessories from its previous models meaning users who are upgrading can continue using all of their old accessories on the new OLED model. 
Switch OLED does play all the same games like the original Switch; it's just that the games look better on the new machine, at least in the handheld mode. Placing both the systems side by side, you can easily spot the difference between both the screens. In addition, since this gaming console has a built-in LAN port in the dock, you can, without any fuss, plug in an Ethernet cable and enjoy online gaming without enduring the headaches that come while using Wi-Fi.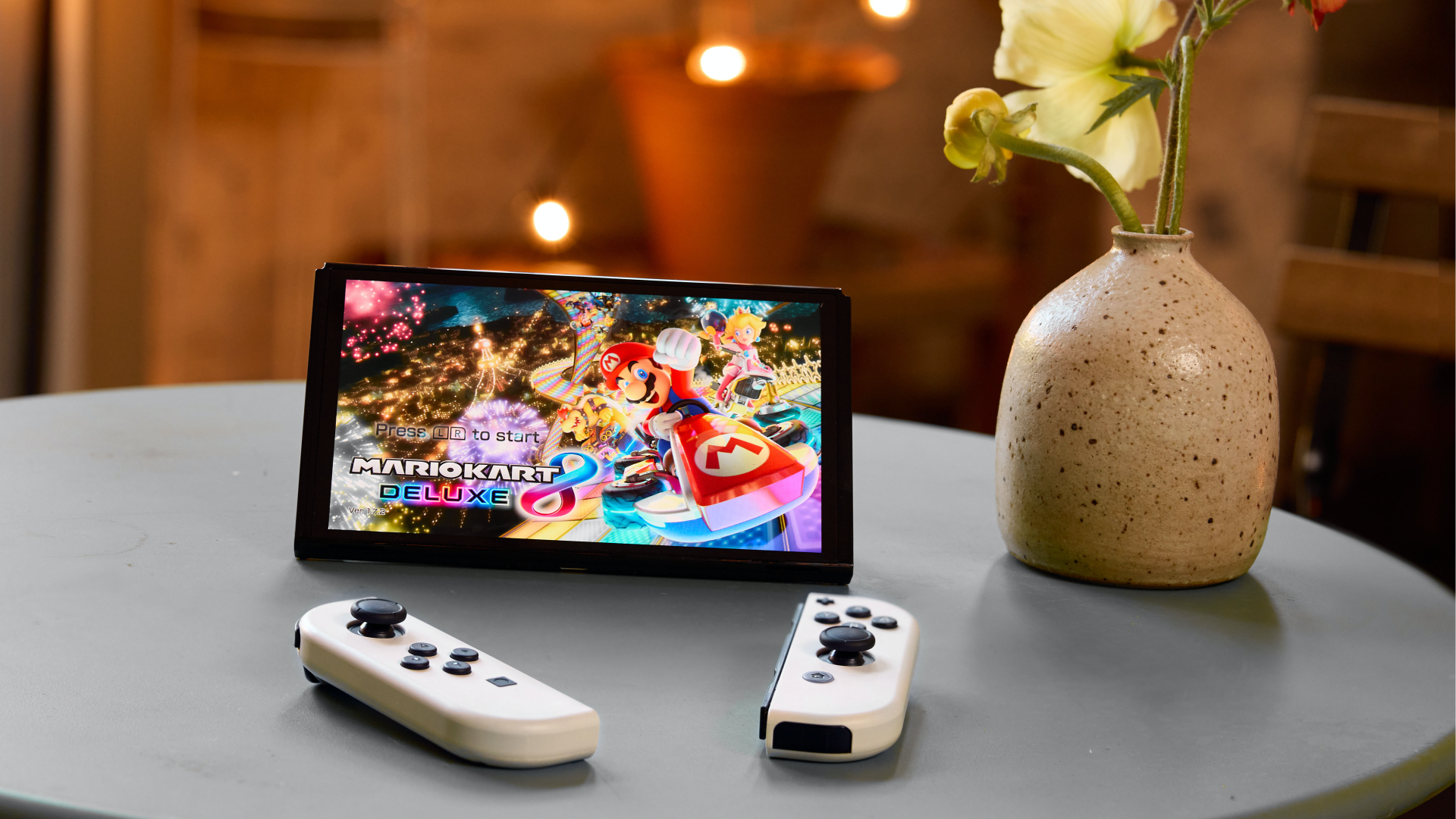 If you love playing in tabletop mode, then you will be more than pleased with the Switch OLED's new kickstand that covers the entire backside of the system. This is a huge and considerate improvement over the skinny and fragile kickstand of the original model. However, the original Switch still gets the job done, but the OLED model is a significant improvement in more ways. Like the original Switch, the OLED won't run games at a higher fidelity but is perfect for gamers who love high-quality Nintendo games or ports of older beloved classics, especially in the handheld mode.
Nintendo Switch OLED is for players who crave a better-looking screen in handheld mode or for the ones who play online while docked. If you're planning to upgrade or haven't owned a Switch system before, then this is one of the best PlayStation alternatives you should consider!
Price
Get your hands on this one of the top gaming consoles at $350.
Google Stadia
Who would've thought that one of the most captivating alternatives to Playstation, Microsoft, and Sony's hot new consoles has no hardware involved? Yes, you read it right! Google Stadia is a cloud-based gaming service that allows you to game on any device on hand. So whether it's your television, laptop, tablet, or phone, Google Stadia lets you stream exciting new games to your devices the same way you'd stream episodes of Squid Game on Netflix.
This sort of service, no doubt, is exceptionally convenient, but can it compare to the PS5 and Xbox? For more casual gamers, the answer is a resounding YES. 
Google Stadia has something for everyone.
Price
Instead of dropping hundreds of dollars on a piece of hardware, you can get started with Stadia for a month-long free trial. After that, its subscription would cost you less than $10 a month, getting you to access even more titles the longer you stay subscribed. 
Sega Genesis Mini
Genesis Mini is Sega's retro console offering and renewing the classic Nintendo-Sega rivalry in the new era. 
A few golden age classics can only be found on the Sega Genesis. Sega, no doubt, has just as many stellar, nostalgic titles as its Nintendo counterpart console.
Sega Genesis Mini features 42 games, out of which 40 are Sega classics, and one Genesis-bound Tetris and arcade shoot 'em up Darius sweeten the pot. 
The box includes a sleek, miniaturized version of the Sega Genesis console and two classic controllers. The console comes in a ready to plug-and-play state. It also has a power adapter and an HDMI cable.
All the games in this one of the best PlayStation alternatives are presented similarly as they were. This console includes a save-anywhere function, which is quite a time-saver. Your preference for retro gaming consoles will primarily be driven by whether you prefer Sega's lineup or Nintendo's. There are certainly no wrong choices, and this is exemplified by the fact that these consoles still generate hype decades later.
Price
Get hold of this one of the top gaming consoles at $39.99.
Amazon Luna
Like Google's Stadia, Amazon is also setting its sights on the streaming gaming arena. 
It's currently letting interested gamers request early access to Amazon Luna. 
Luna promises many of the same benefits as Stadia, such as the ability to stream games instantly rather than waiting for them to download on your system and the option to play on whatever screen is available and the most convenient.
Powered by Amazon's gaming servers, Luna should have minimal latency issues, if at all noticeable. 
Luna also offers two separate pricing tiers- Luna+ and Ubisoft+.
Luna+ is less expensive and offers access to an ever-growing library of games.
Ubisoft+ grants you access to some of the developer's most popular titles. 
You can choose one subscription tier or both and even use Alexa to open up and load games when you're ready to play.
Price
Get hold of Amazon Luna with a monthly subscription of $5.99.
Xbox Series X
Xbox Series X is currently the most powerful and one of the top gaming consoles available.
This tech powerhouse features 12 TFLOPS of power and up to 8x more graphical performance than Xbox One. It is almost twice the performance of the Xbox One.
This one of the best PlayStation alternatives has up to 16GB of GDDR6 RAM. In addition, Xbox Series X supports variable refresh rates, Variable Rate Shading Technology, and a low latency mode that allows for better responses from users"' games. 
This one of the best gaming consoles also has 4K/120 Hz support.
The power in this next-gen gaming console will indeed wow all its users.
Xbox Series X owners have no shortage of games. This one of the best PlayStation alternatives will support every previous generation of Xbox games on the new machine, indeed a massive win for game preservation.
Xbox is also home to the best deal in gaming, Game Pass. Players can explore and test new titles with Game Pass for a comparatively lower monthly fee. The library is not composed of the last-gen throwaways either. It would have plenty of novel first-party titles that'd cost you a premium if you were to go out and buy them. 
Given that Game Pass is also available on computers, Xbox Series X allows for more cross-platform opportunities thanSony'ss offerings.
Xbox Series X, along with being a powerful machine, is also praised for its quietness. In addition, it has incredible cooling architecture, so much that it sometimes keeps you wondering if this gaming console was ever on or not.
Xbox Series X is made for players who desire to play plenty of new games with the best visual fidelity!
Price
Get your hands on the powerful Xbox Series X at $499!
Conclusion
These Playstation Alternatives! Be assured you will be impressed by them from the first use itself!  
These next-gen machines make sure you feel the power in your hands while playing any game on them. These top gaming consoles will take your gaming experience to a new level with the plenty of varieties and features they have!
Whether you're playing to relieve your stress or to get some thrill in your boring life, these gadgets will never upset you. You'll feel every atom of excitement and enjoy to the fullest with these top gaming consoles. I hope this list helped you choose the one for you (gaming console ;))