What Is Pipl Search? How Can I Find a Loved One Online for Free
Pipl, as it sounds, is a people search engine. The app is designed primarily to help professionals identify people. It provides companies and professionals with your e-mail addresses, a few quick facts about you, and links to your various social media profiles.
What Makes Pipl Different? What Is the Best Search Engine To Find a Person
There are various other competitors to pipl, but what distinguishes it from other People Search Engines is that you only have to enter the name and location of the person that you are searching for, and you will get the results immediately. Another factor that makes pipl different is the use of 'Deep Web.' Deep web pages are the ones that are difficult to access by many general Search engines. These are the pages to which other pages are not linked to. This makes PIPL The Best Search Engine To Find A Person. Pipl's query-engine helps you find deep web pages that cannot be found on regular search engines.
What Is the Deep Web?
Also known as "invisible web", the term "deep web" refers to a vast repository of underlying content, such as documents in online databases that general-purpose web crawlers cannot reach. The deep web content is estimated at 500 times that of the surface web, yet has remained mostly untapped due to the limitations of traditional search engines.
Since most personal profiles, public records, and other people-related documents are stored in databases and not on static web pages, most of the higher-quality information about people is simply "invisible" to a regular search engine.
How Does Pipl Work? How Can I Find a Person for Free
Pipl works uniquely. It uses deep web sources to find information. All you have to do is enter the name and location of the person you are looking for, then pipl goes through all the relevant URLs and deep web sources, including some guesswork, yes! Guesswork. Because as we discussed, deep web pages do not link to other web pages so, pipl has to guess some URLs to find the information about a person. It also uses public information about the person, and after using different advanced languages, it presents to you the most relevant information obtained.
Who Can Use Pipl?
Pipl is primarily developed for professionals; however, anyone can access and use pipl provided they identify themselves and state the purpose for use. They are granted access only when their goal is explicit, legitimate, and ethical. Also, pipl identifies and assesses its customers privately before providing them their services to ensure it is not misused.
Results How Pipl Search Report Looks Like?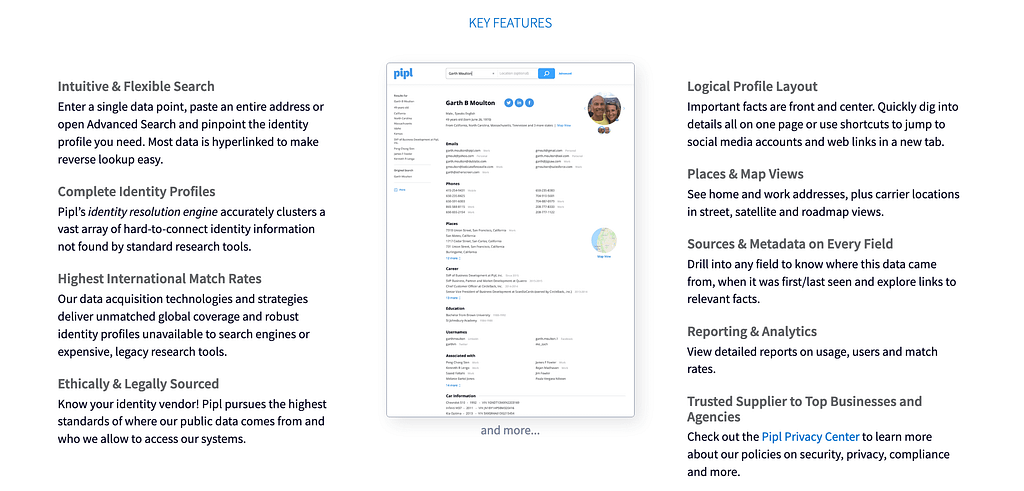 After crawling deep web pages, pipl produces a one-page report for you about the person you are searching for. It includes all the relevant information about the person like links to his/her social media accounts like FB, IG, etc.; e-mail addresses, professional and educational history from professional sites, and some demographic information about the person like age, gender, etc.
Potential Applications
Pipl is an investigative app. It helps professionals like financial institutions, government agencies, and various companies to find people and their related facts, for numerous reasons like to assess the creditability of a person, source, etc.; to link online and offline information, to trace the changes in it, and to disclose associations between different social media accounts/people, etc.
Identity Verification
Pipl identifies and assesses every customer secretly before providing services to them.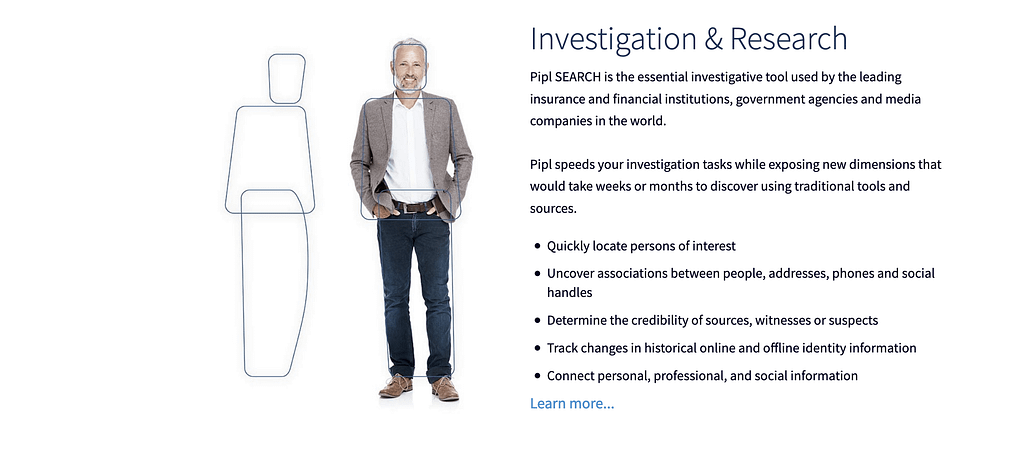 Through this vetting, it ensures that the service is used for legal and ethical purposes. It does not allow its customers to use the services for spamming, political campaigns, or in a way that poses any threat to individual rights. Identity Verification also helps pipl to ensure if the person is reliable and whether he/she is providing their real identity and purpose. It does not offer its services to anyone who does not share their real identity and purpose.
Avoiding Financial Fraud
As stated earlier, pipl ensures that its services are used for ethical purposes through vetting. It helps avoid fraud as only trusted profiles are allowed to use it and for permissible purposes only. It includes 3 billion trusted identity profiles that are cross-indexed by 25 billion individual track records.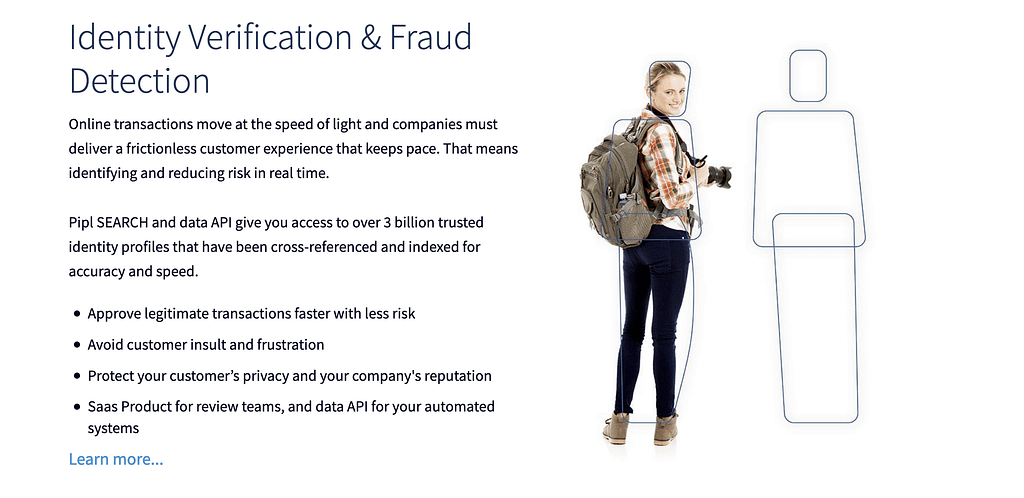 It also provides fraud and investigation services to professionals in government, financial institutions, law, legal, etc. You can assess a person through pipl before making any financial commitments with him/her. If pipl finds the person skeptical,, it will warn you by showing a red flag. This way, you can research more about that person, find out its reliability, and save yourself from any potential risk of fraud.
Marketing
As pipl makes it possible for marketers to access social media presence and demographic information about people, they can quickly figure out different people's interests and target the right audience for their marketing campaigns.
How Much Does Pipl Cost?
Pipl offers different pricing for different plans. For Contact, it charges $0.05 per match, for Social $0.10 per match. For Business $0.20 per match are set by pipl.
How To Use Pipl for Free
The free trial gives customers access to the basic version of pipl. It allows customers to use a few features of the app, which provides you with the necessary information about a person and helps you understand the app better. However, it may not be able to provide you with complete information about a person.
Drawbacks of Pipl
Although pipl is one of the leading people search engines, it has its drawbacks. Pipl does not produce information on its own but collects it from different online sources. If the information present on those sources is incorrect, you may get some wrong information on pipl as well, for example, mobile numbers, as they are frequently changed or entered incorrectly for security and privacy concerns.
Pipl Alternatives
Pipl is one of the best search engines for finding people, but there are also a few other apps that will help you find people's information. The alternatives to pipl include BeenVerified, People finders, Spokeo, Truth Finder, Identity Watch, BigDateCloud, etc.